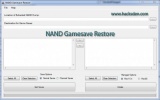 About
NAND Gamesave Restore is used to retrieve gamesaves from an extracted Wii NAND dump. I decided to write this application after recovering many bricked Wii's. I wanted to make my customers Wii as close to the way it was before the brick as possible. In order to do that, one of the things I had to do was retrieve the gamesaves from the bricked NAND dump. This task could be done manually but it's time consuming and you don't know what games you're even working with and if they are worth the trouble. NAND Gamesave Restore will retrieve those saves for you and display the name of the games so you can choose which games you want to restore.
Requirements
- Windows XP/Vista/7 with Microsoft .Net Frameworks 4
- Your extracted NAND dump
- The game must be played at least once before the restore. If not then a restore isn't possible.
Change log (1.0):
*Updated the game title database. No functionality revisions made.