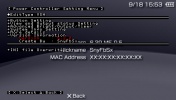 Homebrew coder SnyFbSx is back with a new version of PSP Power Controller. This homebrew plugin allows users to create handy shortcuts in order to access several features of their handheld. See below for what's new in version 5.2.0.
Change log (5.2.0 ):
* Added setting of the switch to show / hide part of the time in seconds (for demand)
* I increased the item, we recommend that you reset the ini file.