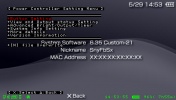 Homebrew coder SnyFbSx's PSP Power Controller is a handy homebrew plugin that allows users to create shortcuts in order to access several features of their handheld.
Source:
http://www.digitopz.com
Change log (5.0.3 ):
* v5.0.3
o cmlibmenu.prx support. (bera -> ver.1.0)
+ please change this module in lib folder.

* v5.0.2
o [Bug fix] Fixed part of the owner information. (language information)
o [Bug fix] Fixed icon display.
o cmlibpower.prx support. (Please replace the library.)d.