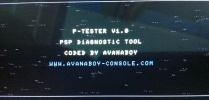 P-TESTER - PSP DiAGNOSTiC TOOL
*What is P-Tester?*
P-TESTER is a diagnostic tool for sony PSP.
*Installation*
Copy P-TESTER folder in ms0:/psp/game/
and then boot from xmb.
*Notes*
With P-TESTER you can :
*Test your PSP BUTTONS
*Test your PSP DISPLAY FOR STUCK PIXELS and FIX IT!!
*Test your PSP AUDIO SYSTEM
*Test your PSP BATTERY (since V1.5)
*Test your PSP UMD Drive and UMDs (since V2.0)
more features will be added soon ..
*Credits*
Special thanks to Accro for having beta-tested this version!
I'm releasing the source code too. I think that this might be usefull
for those that want to learn psp programming basics, and for those that
just want to see how P-TESTER works.
If you find a bug, or if you have any idea, please contact me!
Avanaboy
WWW.AVANABOY-CONSOLE.COM
Change log (2.0):
----------V2.0----------

*Added UMD Drive test with cool UMD reading features
*Fixed ALOT of bugs
*Graphic system completely rewritten with OSLib MOD V2
*Source code optimized !