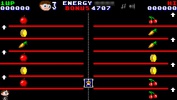 The object is simple but achieving your goal is fiendishly hard! All you have to do is navigate your way from the bottom floor of each level to the top floor. You're on foot though because the lifts have security guards that are on the look out. After all you are a thief and you need to avoid being spotted by a aecurity guard too many times, if you fail to avoid being spotted too many times you will go to jail and it's Game Over.
Change log (1.4):
- Power UPs can now be reused, you must wait for a power up to fully recharge before you can collect it again.
- The ability to goto a previous floor, handy when the power up was on the last floor you were just on.