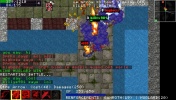 Description
Homebrew developer UnlimitedX has updated his Warcraft-esque homebrewed game, Kingdom of War PSP. What's new in the latest update?
Source:
http://www.digitopz.com
Developer's note:
It is possible that the server is occasionally off-line to save the characters and other reasons.
It is also possible that there are lags of my internet connection, however, network management and data was reviewed in full.
Change log (R2.0 ):
* Ability to gain experience points and climb to level 5! Level up will give you the extra life, endurance and an extra damage bonus.
* It is now possible to save your character! When you restart the game it will be loaded automatically!
* Account system has been set up. Your account is registered on the server and no other that your PSP can connect to it.
* All skills are available with beautiful special effects!
* At the start of each team spawn point a bot stands guard, beware, it is very fierce! These guards protect the players when they appear and defend the territory of their king.
* Added a multitude of sounds from the game Mount & Blade.
* New graphics.
* Reduced lag in general (depending on your internet connection and especially mine).
* Added a sound when the end of the battle.
* The arrow is stuck into the character.
* Maximum 30 players on the server (guards included).
* Added sound when connecting the players.
* Ability to select the desired wireless connection!
* Many more surprise!