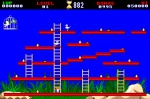 From the developer's who brought you Nifty Lifty & Nibbler comes a newly update Chuckie Egg with the release of v2.0 from the Richie over at insoft. There is a version of this game for the PSP, PS Vita and other platforms seen at the developer's website. This retro style game that sorta looks like old skool Donkey Kong is actually a remake of an old home computer game called Chuckie Egg.
Change log (2.1.1):
- Hens can now climb ladders past platforms, no longer will a hen stop at the first platform they reach, instead they may skip a platform to continue to climb the ladder to the next one or very last platform.
- Hens now been put on a diet, now slimmer.
- Bug fixes.