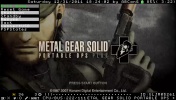 "CustomHOME" is a plugin that makes HOME MENU more convenient, by adding extra options like "Reset Game,Shutdown,Standby etc..."
- Hold select to open menu settings.
This version was based on CustomHOME 1.3.4 and modified to support the PSP Go, change CPU clock, and integrate a little closer with PSPStates Menu_pict mod v5 (update).
::::::::::::::::::::::::::
PSPSTATES WARNING
::::::::::::::::::::::::::
- If you change CustomHome configuration and load a pspstates savestate, customhome will have the configuration it had when the save state was made.
- If you have different plugin configuration between savestates unexpected behavior can occur.
- Those two above are the main reason why I have moved pspstates for custom home to a different folder than the normal pspstates.prx.
- I recommend not to try loading savestates made with other versions of pspstates.
Requires prx-common-libraries:
https://code.google.com/p/prx-common-libraries/
Change log (1.3.7):
[08/17/2014]
* Reverted memory stick access check to the direct hardware register function for memory stick only (seems better). For PSPGo's internal memory the other method is used.
* Patches pspstates so the shortcuts (L+UP, R+DOWN...) won't work. This had problems with the PSPGo when using the DualShock3 via bluetooth. Patch based on pspstates menu pict source code.