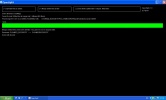 OpenSplit is a java program to split or merge files bigger than 4GB.
The split files are named .666xx and are compatible with backup managers.
OpenSplit searches in all recursive folders and rename the game folder with an underscore (BLESxxxxx to _BLESxxxxx) after splitting files.
Change log (1.2):
v1.2
- Now the chosen folder doesn't return to "default" after one job done.
- Added a sound effect when job complete.
- Buttons look better.