Our download center contains a more recent version of the file you're trying to download:
multiMAN 04.40.00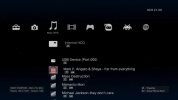 multiMAN is a multifunctional tool, which includes 8 different display modes (for games, AVCHD and Blu-ray) and File Manager + background running FTP server.
Features:
* Support and display for 7 devices (HDD/USB/BD/SDHC/MS/CF)
* Support for REMOTE PLAY via PSP or other compatible peripherals
* Update check/download feature
* Support for AVCHD activation from external USB devices
* Support for playback of AVCHD and Blu-ray content from internal HDD
* Overscan support for DLP and CRT TV sets
* MP3 playback
* JPEG/PNG picture viewer
* HEX file viewer
* Support for at least 15 freetype fonts (user can change using [R3] in game display modes)
Change log (02.05.03):
multiMAN ver 02.05.03 UPDATE POC WAVE (20110905-143300).pkg

If you want to enable the background motion wave - press SELECT+TRIANGLE.

Have in mind that it is just a test update, although everything works fine when motion background is not enabled.