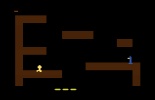 Blinky Goes Up is a platform game for the ATARI 2600 video computer system, featuring six vertically smooth scrolling levels and superbly animated characters. The entire game is only 4K in size - that's roughly about 30 tweets of text! Speaking of Twitter... you can follow me at @lov3machine if you like (don't worry I don't tweet that often).
Blinky Goes Up will be released as a cartridge that can be played with an original ATARI 2600 video computer system and comes in a nice box (the one you see on the left side).
The cartridge version will definitely be available before Xmas 2012, though there is neither an exact release date nor a price tag yet. If you'd like to be informed when the game is available, just send an email to blinky at gmx dot info.
In the meantime you can download either the NTSC or the PAL ROM image and play it with your favourite emulator.
Change log (1.0):
7z contains both the NTSC and PAL versions.