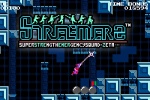 The original online flash version of Streemerz was released in 2010 on websites such as Kongregate in a time when replicating the Nintendo NES's style was all the rage. This wave of 8-bit inspiration saw the likes of Super Mario Crossover and VVVVVV being released, both of which sported retro console graphics and gameplay similar to that of decades gone.
Finnish based homebrew developers Faux Game have managed to convert the NEStalgic flash game into a fully fledged Nintendo NES title, which is due to be released later this month as a downloadable ROM. This achievement is one that cannot go amiss, as it appears to have made a flawless transition to the Nintendo NES - one which could easily be passed off as an official release.
__| __| __| _ \ _ \ __ `__ \ _ \ __|_ /
\__ \ | | __/ __/ | | | __/ | /
____/\__|_| \___|\___|_| _| _|\___|_| ___|
SUPER STRENGTH EMERGENCY SQUAD - ZETA ...
NES port (C) 2012 Faux Game Company
www.fauxgame.com
Original version (C) 2010 Mr. Podunkian
www.superfundungeonrun.com
Info
----
"Try climbing to the top of this one by throwing streamers and climbing
them. On your way up you better watch out for the various pie throwing
clowns, burning candles and bouncing balls, because if they get you,
you'll die a little each time."
These were the orders given to you, Operative JOE when you were ordered
to infiltrate the evil MASTER Y's floating fortress to destroy the TIGER
ARMY's top secret weapon.
Controls
--------
Left/Right Move
A or B Shoot the streamer (in normal game modes)
Flip the gravity (in Streeeeeemerz mode)
Start Pause the game
Change log (02):
- v02 (2013-02-01)
Fixed infinite bouncing bug in Streeeeeemerz mode.
Fine-tuned controller handling during screen transitions.
Added French translation.