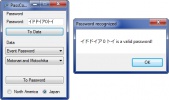 This tool can analyze and generate Pokémon Conquest passwords. See the readme for more details.
Source is included, but it's pretty sloppy.
IMPORTANT:
Please don't submit passwords generated with this to sites such as GameFAQs.
Change log (1.1.2):
- Fixed randomization (clicking To Data now selects a random scramble pattern).
- Compiled with .NET Framework 2.0 instead of 4.0.