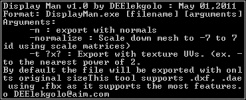 DisplayMan generates a display list for use in nds games featuring 3d content.
It supports normals texture UV and the normalization of meshes in the case that you wish to avoid handling complex scale matrices.
This tool currently supports .dxf, .dae, .3ds, .obj, and .fbx. I recommend using FBX and it supports the most features of the 5 file formats and works in nearly every major 3d package.