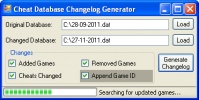 This tool compares two usrcheat.dat files to find the changes between them, and generates a changelog file.
Requires .NET Framework 4.0. Source included.
Features:
- Duplicate game detection (better than R4CCE's)
- Can find added games, removed games, updated games
- Can append game ID to game names
- Nifty status bar to keep you updated
This tool uses UTF-8 encoding for all usrcheats. For English text, this won't matter, but it might for Japanese/Chinese text. If you're having problems, try converting your usrcheat to UTF-8 encoding.