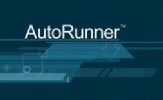 AutoRunner is a black-box testing tool, which could be used to finish function test and regression test, to improve the test efficiency and to reduce test cost in labor cost.
Automatic test is the direction of today's development in test. It can help software development team realize:
●save testing time
Automatic test, through executing testing script, realizes test automation. Execution speed of very single script multiplies up to 10 times faster than which of manual executive, which will save us a lot of time in test and means we do not have to work overtime to meet the deadline.
●24hours executing
Through 24hours-executing mode, it realizes night-executive mode and night automatic executive to attain the goal of daily-constructing-test and instantly find out bugs turned out every day. To item managers, they can access item quality data and master the item progress situation.
●reduce cost
Automatic test do not need testers to execute test case, so it can save an enormous amount of executing cost. To testers, they do not have to work overtime to release new versions. To the whole product development group, a few testers can finish high-quality product, which will save plenty of cost.
AutoRunner can commit GUI Function Tests to following type objects:
1.windows type objects, commonly are desktop software developed through technologies such as C++/Delphi/VB/VFP/PB/.NetForm
2.IE web objects, common websites like large portal sites
3.Java objects normally are desktop software developed through technologies such as AWT/Swing/SWT
4.Flex objects, with webpage contents developed by Flex
5.Silverlight objects, with webpage contents developed by Silverlight
6.WPF objects, usually are desktop software developed through WPF technology
7.QT objects, usually are desktop software developed through QT technology
System Requirements: windows(32bits/64bits) 2000/xp/vista/2003/7/2008