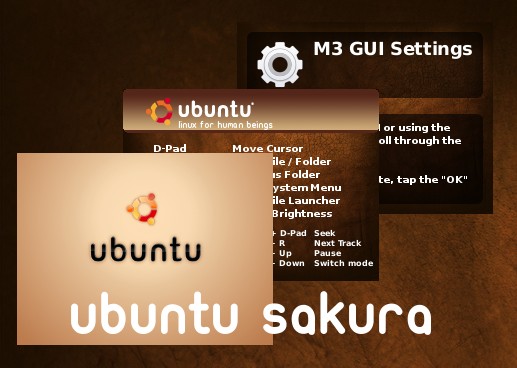 Version 8.10 "Intrepid Ibex"
A theme dedicated to one of the best Linux distributions out there. For those that do not know what Ubuntu or Linux is: Linux is a free (as in free beer AND free speech) operating system. Ubuntu is one of thousands of Linux distributions available. Offering a giant repository of 20.000+ free software packages and a huge community, it is easily the most popular and user-friendly derivative of Linux. If you know and like Ubuntu, chances are you will like this theme and if not, you may still like it for its cleanliness and pleasant colors. Or maybe you will like it for the for the soft sound theme. Note that this skin aims at cleanliness far more than an extraordinary design.
Finally, I think my theme is ready for the first release. Initially I created this skin for myself, but as I saw it growing I decided to share it with anyone. This theme is near complete, I haven't done the media player yet because I lack some resources, maybe I will finish it anytime soon. There are also additional backgrounds and a sound scheme that perfectly matches this skin.
All of the resources used are available under one of many permittive licenses, e.g. Tango is public domain. Therefore EVERYBODY is allowed to distribute this skin freely on the web. Furthermore EVERYBODY may take the whole theme or parts of it and modify it as he/she likes it and distribute that as well. Just do not forget to attribute that guy whose work you modify and distribute.
Authors comments:
File list and config backgrounds still look somewhat boring. I will look how I can improve them.
For more information and installation instructions read the Readme.txt included in the zip file.