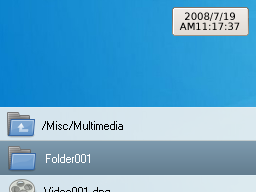 UPDATE (20/02/09):
QUOTE(Changelog)-Fixed some errors that people were experiencing, regarding operating speed and skin errors:
-There are now 3 versions:
Normal: The 'new' Sakura Clearlooks. No transparency, and coloured to imitate the effect of the original (custom wallpapers not recommended).
Default: No transparency, and coloured to match the original Clearlooks theme. May not look that great (custom wallpapers usable).
Original: The item BG has transparency, which results in a mildly slow interface. Looks a lot better, though (recommended for custom wallpapers).
Final version. Any comments or critique are welcome and would be greatly appreciated
The .ZIP file includes:
-Completed skin (493KB)
-10 Wallpapers (BMP, 512x456)
-Source file package (Flattened, 277KB)
Source files included:
FL_Double_Icon_Folder.png
FL_Double_Icon_GBAROM.png
FL_Double_Icon_Image.png
FL_Double_Icon_NDSROM.png
FL_Double_Icon_Skin.png
FL_Double_Icon_Sound.png
FL_Double_Icon_Text.png
FL_Double_Icon_UnknownFile.png
FL_Double_Icon_UpFolder.png
FL_Double_Icon_Video.png
FL_Single_Icon_Folder.png
FL_Single_Icon_GBAROM.png
FL_Single_Icon_Image.png
FL_Single_Icon_NDSROM.png
FL_Single_Icon_Skin.png
FL_Single_Icon_Sound.png
FL_Single_Icon_Text.png
FL_Single_Icon_UnknownFile.png
FL_Single_Icon_UpFolder.png
FL_Single_Icon_Video.png
mp_mode_allrep.png
mp_mode_random.png
mp_mode_repeat.png
mp_modelbl_allrep.png
mp_modelbl_random.png
mp_modelbl_repeat.png
mp_next.png
mp_pause.png
mp_play.png
mp_prev.png
mp_stop.png
mp_volbar_off.png
mp_volbar_on.png
MP3Cnt_p0_Auto.png
MP3Cnt_p0_Lock.png
MP3Cnt_p1_prev.png
MP3Cnt_p2_pause.png
MP3Cnt_p2_play.png
MP3Cnt_p2_stop.png
MP3Cnt_p3_next.png
MP3Cnt_p4_allrep.png
MP3Cnt_p4_random.png
MP3Cnt_p4_repeat.png
MP3Cnt_vol_off.png
MP3Cnt_vol_on.png
RP_BG_off.bmp
RP_BG_on.bmp
SB_DownBtn_Normal.png
SB_DownBtn_Press.png
SB_GripBG_Normal.png
SB_GripBG_Press.png
SB_GripBottom_Normal.png
SB_GripBottom_Press.png
SB_GripTop_Normal.png
SB_GripTop_Press.png
SB_UpBtn_Normal.png
SB_UpBtn_Press.png
SCB_CalenderFont.png
SCB_Font16.png
SCB_Font24.png
SCB_Font32.png
SCB_Font48.png
SCB_Font56.png
SCB_Font64.png
SCW_Font16.png
SCW_Font24.png
SCW_Font32.png
SCW_Font48.png
SCW_Font56.png
SCW_Font64.png