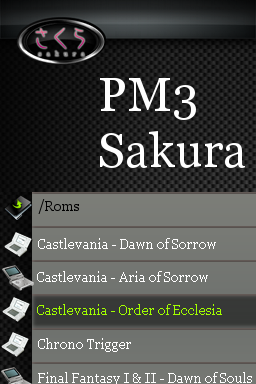 This is a port of the Project Mayhem 3 skin from XBMC to M3 Sakura.
I am NOT the original creator of the Project Mayhem skins, I just ported this version because I like all of my devices to have the same skin.
This includes loading screens for the system folder and all of my source files.
::UPDATE:: Changed the FileInfo Frame to be more in line with the rest of the skin;
Changed the default NDS icon from white to black;
Changed the Long_Tap wheel to the XBMC loading icon;
Fixed the slight discrepency on the cartridge loading bar;
Added transparency to ErrorDialogBG.
::UPDATE 2:: Changed SysMenu_BG to look more like the rest of the skin;
Changed all of the file highlight bars to be more like XBMC;
Skinned the text viewer bookmark tabs (they had just been grayscaled).
I'm going to see if I can make a soundpack like Metron's Gameboy sounds.