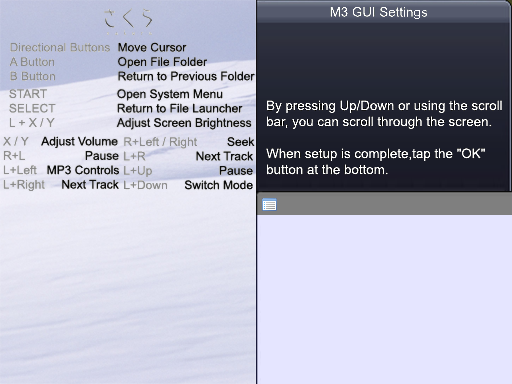 This is an update to my moonshell skin. I did not do this update. the person who updated my skin is
http://gbatemp.net/index.php?showuser=51092
(dohclude)
So thank him for this wonderful update!
The updates include (quoted from dohclude):
QUOTEI fixed the skin up a little bit. I changed the color of the "RP_BG_on.bmp" and "RP_BG_off.bmp" to match the rest of the skin. I also took the "Launch_Tab0_Launch.png" and "Launch_Tab1_NDS.png" files from the moonshell skin and resized them to work with sakura (your versions of these had the word "Accessories" spelled incorrectly.) I also changed the "Label_text" entry in the colortbl.ini so that the menu's would show up properly.