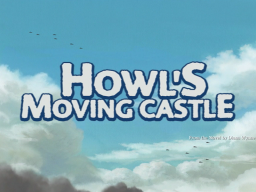 --->>> !!! Image quality on this site is not how it is on the screen..its because i had to change the format for this site to upload & it looks bitty.
The Image is just the topscreen as i couldnt be bothered waitin to get them off my mobile and compressing them..also i'm still not sure how to work it... Anyway!...
This is my 3rd skin for the SUPERCARD HC SD... i'm getting pretty addicted! :S
I chose to do Howl's Moving Castle because i love it! i'm sure alot of other people do too!
- Used original Supercard skin except changed the SCmenu
- Took snapshots of Hayao Miyazaki's 'Howls Moving Castle' movie myself and resized them to fit.
- Also added a snippet of the main music from the album for the startup, it goes on a while (maybe 10secs?) so u can choose to change it to the normal startup noise if you prefer that.
-->> Remember if you do not have an -- HC SD SUPERCARD-- you may be missing certain programmes/folders in your skin, so make sure you have what you need to add to this skin because it can still work!