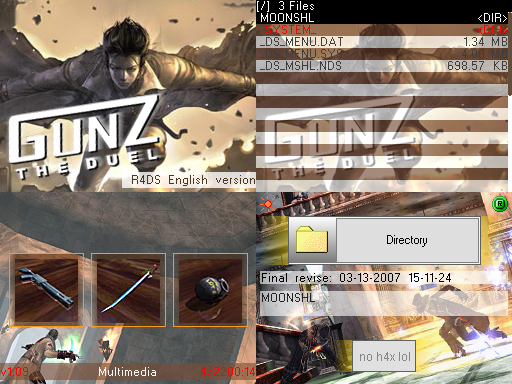 This is my FIRST SKIN. If it sucks, I admit right now that I am no professional, and that this is an occasional hobby of mine.
However constructive criticism is always helpful, so just be kind when giving me pointers.
This skin was inspired by free game (which i took the name from) that anyone can download and play. It's fun!
Okay onto the specific stuff:
Gunz: The Duel
- FOR R4/M3DS SIMPLY ONLY
- Includes everything, even the gbaframe.bmp and the theme.ini
- Time taken: 4.5 hours (I am really that slow)
- Pictures taken from various sites (thanks to Google Images for that)
- EVERYTHING (except theme.ini) made in Adobe Photoshop CS2
Special thanks to MAIET, Ijji for a fantastic (and hard) game!
And very special thanks to NDSthemes and GBAtemp for hosting skins: it opened up a lot of great ideas for me.
Thanks to those who download and/or comment on the skin!
- c0nfucius