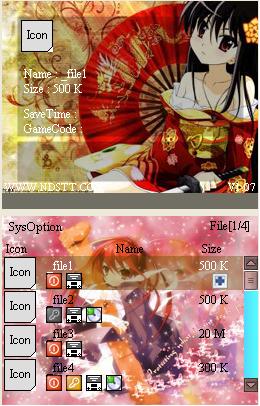 My first DSTT Skin! Made from anime, Shakugan No Shana, theme is... you guessed it! None other than Shana-chan =D
There are still problems with it, but at the moment these are impossibilities, so you have to wait till a new skinning software version comes out. Very small file, works perfectly, took tons of time, so I hope you like it!
For those who didn't know (I'm sure you all do, but let's just make sure):
In order to skin your DSTT, simply extract the default folder into the TTmenu, skin folder in your MicroSD and click yes to all when asked if you would like to replace it.
Please leave some feedback. I will try my best to fix problems, but I am only 15 >.> Well if anyone finds a skinning program that enables sprites, please tell me right away. =)