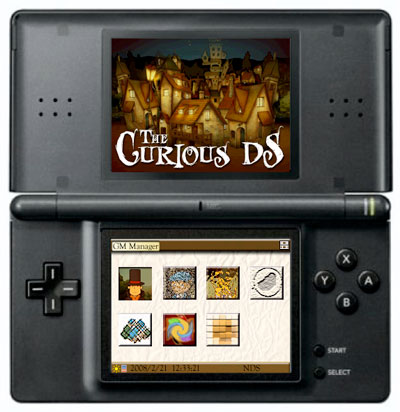 Curious DS skin v1.0
Tested on and designed for the M3 Real.
This is my first attempt at making a skin for the M3. It's (obviously) based around the puzzle game "Professor Layton and the Curious Village".
I've also included three additional top screen backgrounds. Just copy the one you want to use into the "skin3" folder. The background in folder "1" is the same one already included in the "skin3" folder, so you don't have to worry about copying over it. The background in the folder labeled "x" is somehow wrong, although I can't figure out exactly why. When I try to use it my bottom screen freaks out. I'm sure that I've saved it the same as the others, but apparently not and I'm tired of swapping my MicroSD card in and out of my M3 and USB adapter. If anyone can tell me just what is wrong I'll fix it for a future update.
I've also included alternate "Loading" and "Creating Save" screens. To use them simply copy them into the "System" folder. If you ever want to go back to the original screens, be sure to either back them up, or add a -- to the front of the original file name.
Let me know if you like it. If you do and have another theme in mind, feel free to suggest it. I can't promise anything though, since this is purely spare time fun.
Pensketch