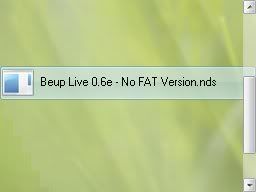 Finished! If you have any comments or critique feel free to post in the section below.
If you want some different wallpapers to go with this skin, you can download my pre-resized 'Vista Wallpaper Pack'.
fileden.com/files/2007/8/20/1365743/Vista%20wallpapers.zip
I've made some variations:
Aero: Fish School
gbatemp.net/index.php?download=2740
Aero: Ultimate
gbatemp.net/index.php?download=2747
Changelog:
1.2
-Re-did the top and bottom backgrounds, they now look much better
-Removed the white underlay (it was slowing Sakura down)
-Improved the blur effect slightly
-File cursor re-done
1.0
-All single slide icons finished
-Single line cursor done
-Changed skin slider from 'Open' to 'Apply'.
0.8
-Media player done
-Fixed the image viewer GUI
0.61
-Fixed a slight positioning error in the boot setup.
0.6
-Boot setup done
-Image viewer progress bar done
-Re-coloured image viewer gui.
-Bookmark save/load menu fixed
-LongTap icons added.
0.4
-Screensaver added
-Text reader recoloured
-Bookmark cursor added
-Reduced the blur under the file list.
-Clock done
-All double 'slide' icons done
-All single and double icons done.
-Progress bar done
-'GUI settings' backgrounds done.
0.1a
-Fixed a misplacement of Launch_FileInfoFrame
0.1
-Initial Release