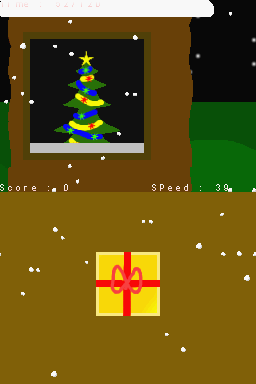 Description:
The game can be played with a stylus as well as with a motion card. Drag a gift with the stylus and throw it into one of the windows on the upper screen. If you are playing
with a motion card, move DS forward and to the left or to
the right (to aim correctly) and while moving it, press [A].
This will throw a gift, same as with the stylus. You get 10
points for hitting a window and 22 points if you hit a window and the gift does not touch the window frame. You also get some extra points for achieving more successful hits in a row. The game has two modes. There is a timed mode where you have to reach the highest score in two minutes and there is a level-based mode where you have
to reach a certain required score in 25 seconds in order
to get to the next higher level where you have to reach a
little higher required score in order to get to the next
higher level and so on.
Controls:
Stylus OR Motion sensor and A button
Special Instructions:
Just don't forget to DLDI patch the ROM for correct saving of highscores