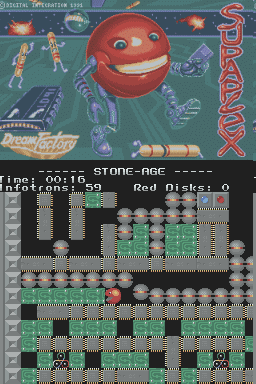 RyouArashi has just released a WIP remake of the Amiga classic Supaplex. The remake was done with PALib.
The game may please those who are into Boulderdash clone
QUOTEYour task will be to guide Murphy (the red smiley) through up to 111 Levels,
evading falling stones ("Zonks&quot
, crazy scissors and more dangers, gather
a set number of infotrons each stage and finally find the Exit block.
Note: This game is HARD (well not for the few levels that work so far)
click spoiler for more details:
[spoiler]Current version: Demo 1 WIP
Playable Levels: 1-4, 6 1-8, 10, 13
Genre: Puzzle
Update WIP:
- Game mechanics for Ports and "Eat-Tile-Next-To-Murphy" added (no gfx/animations though)
- Levels 5, 7, 8, 10, 13 playable (I'll leave the testing to you lot ;-)
Tested on:
- Emulators: no$gba 2.6
- Flashcards: M3 Real [M3 Sakura Triple Boot V1.12 and M3 Real Firmware V4.0]
Controls - Menu:
Up/down: Select Level
A/Start: Start Level
Controls - Ingame:
Up/Down/Right/Left: Move Murphy
A + Up/Down/Right/Left: Eat Board/Infotron next to Murphy without moving
Select: Selfdestruct (in case you get stuck, which likely will happen quite a lot)
Known Issues:
- Not all Objects and Moves are implemented, limiting the number of playable levels
- Minor animation glitches
- and many more (but i'm working on it Cool)[/spoiler]