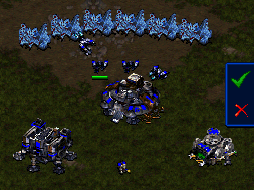 Being a fan of Starcraft some years now, we decided to recreate the game on Nitendo Ds. Our team (commonly called the "StarDev&quot
consists of the time for 2 people, me included.
Change log (0.03):
- StarLite is now using 3D Sprites, which allows to see 1024 in total.
- The wireless Ad-Hoc mode is now functional. It is a saying that you can play with 2 DS in the same piece, one against the other!

Here's how to follow in order to play a new version:
- Copy the file StarLite.nds on 2 DS. (jusqu'ici, tout est normal) (So far, everything is normal)
- On the DS numero 1, copy at the root of your memory card file "equipe.txt" with the content as simple character "1" (without a return line, no spaces)
- DS on the number 2, copy the same file, still has its roots, but this time containing the only character "2". This file helps to inform the DS that you are the player 1 or 2 player!
- Run Starlite, and wait for the 2 games is launched on 2 DS. You can now begin to play.