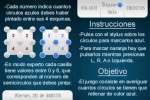 Nickname: Aguilera_87
Projet name: SquarO
From: Spain
Division: Retro GAME
Platform: NDS
Original enter: YES
Support Motion: NO
In last NEO Compo this project have won in the top 10: NO
Project description:
It's my port of SquarO to Nintendo DS.
SquarO is a single-player casual game with a touch of Sudoku and Minesweeper. You can play Squaro for just a few minutes whenever, wherever you want to, even when you are waiting for your laundry to be done!
How to use:
Sinmply, put it in your flashcart and enjoy wherever you want. All controls with stylus.
Change log (1.4):
Right/Left Mode.
400 puzzles added.
100 puzzles for each difficulty level (Easy, Medium, Hard, Expert)