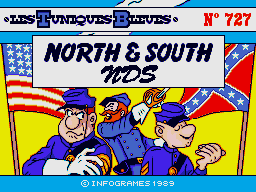 "North&South is a combined strategy and action game originaly made for the Commodore Amiga, Atari ST, Commodore 64, DOS and Amstrad CPC. It was developed and published in 1989 by Infogrames/Atari Europe.
This is an unofficial conversion i made by ripping all the graphics and audio from Amiga and Atari versions and recreate the engine close to the original.
Curently the game is not finished and feature only the platform games."
Download includes source code.
Palib thread:
http://forum.palib.info/index.php?topic=2283
Author's page:
http://adfware.free.fr/?nav=nds