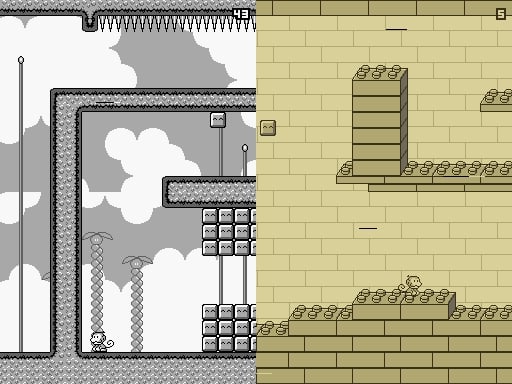 A rhythm platform game for the DS and a great example of early DS homebrew.
There are two versions of the game (both are available in the download)
The first version (the "everlasting" directories in the download) has one level and the song in the background is where the game receives the title from. The song in question is Everlasting Love which you would likely have heard in the We ♥ Katamari game.
The second version "Tomorrow Hill" (EverlastingTH in the download) uses a song from Wario Ware Smooth Moves and features another level).
.nds .ds.gba and .sc.nds versions as well as source code included in the download.
Change log (0.3):
• What's new in version 0.3:

- New level: Tomorrow Hill, on the eponymous song taken from Wario Ware Smooth Moves.
- Press 'start' button to restart the game.
- Added a 'old game boy yellow' color palette.
- Separate collision map.
- Minor adjustments.

Note: Due to technical reasons (sound bug with PAFS in the current version of PAlib), the first level is not included in this release.
Note 2: There's a hidden passage way somewhere in this level...