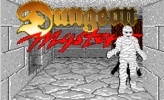 Myster Dungeon is a Dungeon Master with puzzles in the spirit of Myst and Rhem
The vile Lord Chaos took over the gem of life plunging the kingdom into chaos.
Many adventurers have tried to recover, none has succeeded, all is lost in the maze of dungeon and they were killed by the many monsters that haunt its corridors.
Today is your turn to try.
Good luck to you brave adventurer.
The dungeon in this version is just the one I used for development. That the final version will be much larger and will feature a dozen floors.
This version does not monsters, but there is already a first puzzle to solve.
The game played entirely with the stylus.
Here I hope you'll like this game
Change log (0.2):
Some articles and more, clothing helmets and boots which once placed on the body of the characters, provide useful points of protection for future battles. And as suggested by Eviltroopa in the large back room, an exhibition of the first monsters you will face later.