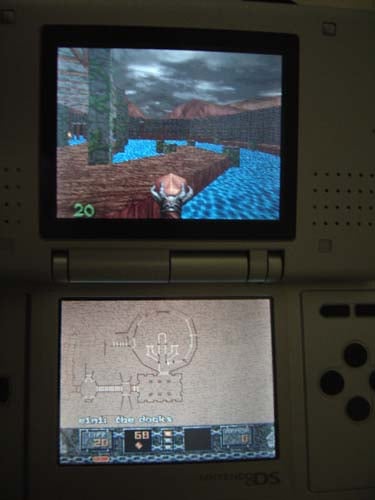 This runs great with stylus controls much like Quake DS. A fun way to get some of that retro spirit back again.
To build a ROM file which includes the music, download the RAW files off the home page listed below. Further instructions can be found in the included ReadME.
Get the Shareware WAD here:
http://www.raven-games.com/essential.php#hr
dsHeretic Version 0.3
Visit
http://heretic.drunkencoders.com
for updates and the latest releases.
The Shareware WAD will run with this build. The apps included in the zip file will build a .ds.gba only!! That is the way JMVA16 has it set up.
Read the included ReadME file for more information
To install:
Unzip entire contents into a directory.
Place YOUR Heretic Wad in that directory and make sure it is called Heretic.wad
NOTE: The shareware wad is named Heretic1.wad. You must rename it (or edit the "make_hereticfs.bat" file).
Unzip gbfs into the directory
Execute "make_dsHeretic.bat"
This will create dsHeretic.ds.gba
Flash dsHeretic.ds.gba onto your gba cart
Run it using PassMe/Wifime/FlashMe
Enjoy!