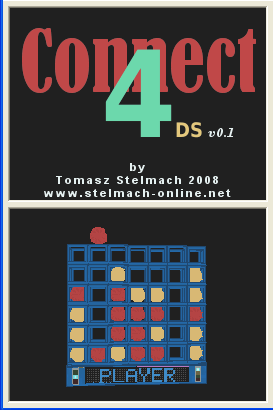 ###############################################################################
#
# Connect 4 DS
# ==============
# version 0.2
#
# by
# Tomasz Stelmach 2008
#
http://www.stelmach-online.net/
#
###############################################################################
About the game
++++++++++++++
The game is an implementation of a well-known board game "Connect Four". It has
a single player mode only and three levels of computer opponent difficulty.
The game can be played on the Nintendo DS console as well as on emulators
available on the internet. The game features 3D graphics which is used to build
the menu and the game board.
Difficulty Levels
+++++++++++++++++
There are three levels of difficulty available in the game:
- EASY - where computer makes mostly random moves and can be beaten even by
an unexperienced player.
- NORMAL - where computer tries to stop the player from winning and also makes
short plans about making next moves.
- HARD - where computer looks up to 6 moves ahead and tries to choose the best
possible move (however, computer is not "defensive" in this mode and will
favor winning over the possible lose, which in the end allows the player to
trick it and achieve victory)
Controls
++++++++
The game is controlled using the buttons and/or the stylus.
In the menu:
- Up / Down Arrow - change difficulty
- A - choose difficulty and start the game
- Touch the menu item to choose difficulty
In the game:
- Left / Right Arrow - move the coin
- A - drop the coin into the slot
- L / R - rotate the game board left or right
- X - reset the game board position
- Start - quit the game and return to menu
- Touch any column of the game field to move the coin to that column
- Draw a line along a column with a stylus to drop the coin
(the "line" has to cross at least 3 rows)
When the game is over:
- A, B, Start or touch the screen - quit the game screen and return to menu
Game Display
++++++++++++
Game board feature three displays:
- Left LED display - shows the selected game difficulty using colors
- Right LED display - shows the current game state using colors
- Central LCD display - shows the current game state
Compatibility:
++++++++++++++
The game was tested on the real Nintendo DS Lite with Acekard 2, and on the
NO$GBA emulator (available here:
http://nocash.emubase.de/gba.htm)
. The stylus
support is available only on the real Nintendo.
Licence:
++++++++
The game is a freeware. Feel free to enjoy it
Version information:
++++++++++++++++++++
Version 0.2:
============
- Stylus support added
Version 0.1:
============
- 3D Graphics
- Three levels of difficulty
- Menu screen and game screen
- Keyboard controls
To be done:
===========
- Sound support (medium prio)
- Better graphics (low prio)
- Super Hard Mode - limited time for a move (high prio)
- Early "a draw" detection (low prio)
- Wifi Multiplayer (yeah, right...)