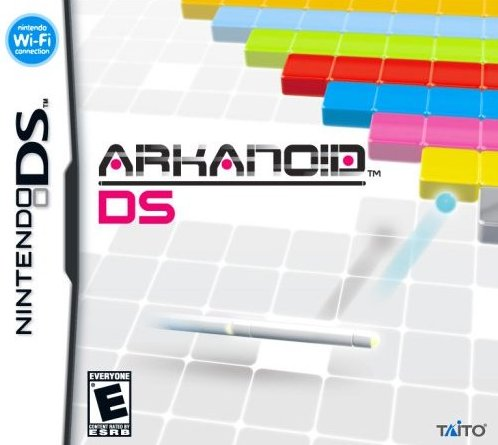 This is a 100% complete save for Arkanoid DS by Square-Enix. It is the American Version.
2369 - Arkanoid DS (USA)
Unlocked all 185 out of 185 Quest Mode Entries.
Unlocked Uranoid Mode
Unlocked Special Metal Frame.
Unlocked Special Twin Block.
Unlocked Special Vaus II Paddle.
Unlocked All 7 out of 7 Vaus Paddles for the Alien Heroes.
Unlocked Special Geometric Background
Unlocked Special Background Music for Nemesis. (Revenge of Arkanoid)
Unlocked Special Background Music for Erebus. (Planet Connection)
Unlocked Special Background Music for Osiris. (Captain Neo)
Unlocked All Block Variations & Background Music.
Unlocked All Vaus(Paddles).
Unlocked All Sound Effects.
Unlocked All Backgrounds.
Unlocked All Frames.
Collected All 11 out of 11 Sound Block Effects.
Collected All 2 out of 2 Background Music. (Happy Smiling & Neptune Diving)
Collected All 9 out of 9 Block Variations.
Collected All 9 out of 9 Frames.
Collected All 86 out of 86 Backgrounds.
All 140 out of 140 levels(Rounds) for Clear Game Mode Completed.
All 45 out of 45 levels(Rounds) for Uranoid Mode Completed.
All 185 out of 185 levels(Rounds) for Quest Mode Completed.
The game is 100% Finished.
Note: Every item is available, no purchase needed. You can go into the 'Options' menu and choose 'Decoration' to customise all the 'Zones' in the game with various Backgrounds, Sound Effects, Block Effects & Frames. Here you can also choose a custom Vaus(Paddle), all are selectable; and Background Music to go with the 'Zones' you enter in either the 'Clear Game Mode' or the 'Uranoid Mode'.
Try 'Quest Mode' - its' fun. Some Nice touches such as from Darius, Bubble Bobble, Lost Magic etc.. Extra nice touch was the Music 'Captain Neo' from Darius. As a whole the music was pretty good.
Finally, if you want to go against the Bosses go to the '1P Game' and choose 'Quest Mode' Now scroll down to the bottom and Choose either one of the Last Three Zones. You will need to choose Round '5' for each of them. If you want to see all the endings you need to complete Clear Game Mode seven times (save each of the 7 Alien Heroes) & Uranoid Mode three times (defeat bronze, silver & gold bosses). If you complete the Quest Mode you get a 'congratulations message', but you will have to start with a fresh save to see this.
R4DS save file. (v1.18)
Enjoy!