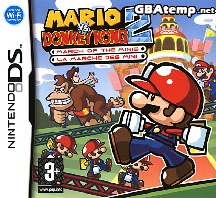 This is a 100% complete save game. It is for the European Version.
0884 - Mario vs. Donkey Kong 2 - March of the Minis (Europe) (En,Fr,De,Es,It)
All Showrooms unlocked.
All 4 out of 4 Movies Unlocked.
All 18 out of 18 Galleries unlocked.
All 80 out of 80 Gold Stars collected from the Main Game.
Ability to change the Title game characters unlocked.
Credits unlocked.
Extra Levels unlocked - Basement 1 & 2.
All Construction Kits unlocked.
Custom made level created called 'Princess' included - Let me know if you like it.
The game is 100% Finished.
R4DS Save file.
Enjoy!