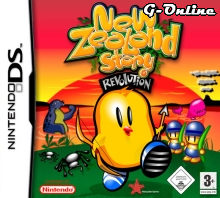 This is a 100% Complete save game for New Zealand Story Revolution. It is the European Version.
0838 - New Zealand Story Revolution (Europe) (En,Fr,De,Es,It)
The game should detect which region/language upon loading depending on your DS setup.
All 20 out of 20 levels are available to select within the 'Story Mode' game.
The game is 100% Finished.
Note:
If you want to make the final level 5-4 easier don't go directly into the level, instead choose 5-1 and get to the first warp door. Upon entering you will be greeted by a mini game called 'See-saw Jump'. If you drop the weight around the middle when the see-saw is below you will be warped to level 5-4 near the end of the game. This will give you a better chance against the 'Walrus Boss'. Of course you can tackle level 5-4 from the beginning, just watch your footing
Another classic Amiga game.
Enjoy!
R4DS Save file (V1.18)