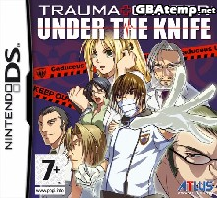 This is a 100% complete save game for Trauma Center - Under the Knife. It is the European Version.
0428 - Trauma Center - Under the Knife (Europe) (En,Fr,De,Es,It)
The game should detect which region/language upon loading depending on your DS setup. It has many Rank C's, a couple of A's & B's; but it has a Rank S for both the Bomb & Final Sin mission.
Unlocked Challenge Mode.
All 38 out of 38 Operation Challenge Mode missions are selectable for you to play including the X1.
There are three saved games, the third one is the completed game. You should be able to see the ending with this save. The other two saves are there if you want to check out some of the earlier episodes.
1st Save File - Chapter 3 Episode 1
2nd Save File - Chapter 5 Episode 9
3rd Save File - Chapter 6 Episode 10 ----> (Completed Game)
This is an alternative to the ones available here for download. This is not the sequel.
Enjoy!
R4DS save file. (v1.18)