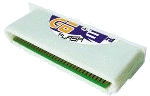 This is the official utility for formatting your G6 Lite. Really useful if you have corruption problems.
Installation:
1 - Copy the archive contents into the folder of your choice.
To format your G6 Lite:
1 - Boot your G6 Lite into GBA mode (one of the many ways is to press Y at the TouchPod interface).
2 - Just before seeing the GBA menu, there is some green text displayed. Press L+R+Start+Select at that time.
3 - Confirm twice by pressing Select. WARNING: This will erase your G6 Lite memory. Please make a backup of your important files! Since this method is often used when your PC doesn't recognize your cart anyway, it is not that easy. You will need homebrew that transfers files to your PC over Wi-Fi, or transfer the files within your DS to another slot 1 cart. Another method is to plug your G6 Lite to a Mac. It works, I've tried it . Maybe it also works on Linux...
4 - Connect your G6 Lite to your PC.
5 - Run MPUtility-1.0.0.11.exe, which should be where you extracted the archive.
6 - Press OK at the configuration screen. You don't need to change any settings.
7 - At the new screen, press "Do Now!". This will format adequately your G6 Lite.
8 - You can now use your G6 Lite normally. Update the loader, put some games and homebrew software, copy the MediaExtend, PDA, etc. folders if wanted.