Our download center contains a more recent version of the file you're trying to download:
EZ4 Firmware 2.03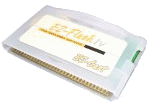 EZ4 Firmware (2006-07-10)
Add saving mode select in Option, Automatic saving and Obliged saving.
Automatic saving: you can skip the saving by press key or touch when booting. (the old mode)
Obliged saving: it force to save the saver when booting , can't skip. but more safety than automatic mode.
PS: the Option in NDS mode is the third icon.