Our download center contains a more recent version of the file you're trying to download:
EZ4 Firmware 2.03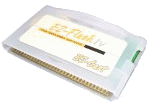 EZ4 Firmware (2006-05-25)
* Halve the loading speed for GBA roms. Only affects roms copied to PSRam (128Mbit or lower in size).
Rename the file to ezfla_up.bin and copy to your Mini-SD card. Hold the R Trigger and turn on your DS. The Loader will update. Ensure the file is not called ezfla_up.bin.bin due to windows hiding file extentions.