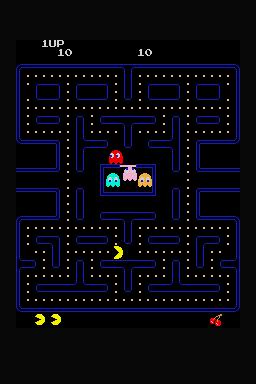 MarcaDS is an arcade emulator.
It use the same principle than Mame but it's not using its code,Mame is too huge
for our little DS , but it's just my opinion.
To use this emulator, you must have compatibles ROMS with NO COMPRESSION ZIP format.
Do not ask me about ROMS, I don't have them. A search with Google will certainly help
you.
V4.0 : 13/07/2007
New design (thanks again Lobo) and new logo (thanks to you too DayDream)
Add SN76496 and AY-8910 sound emulation, lots of games have now sound.
Solomon's key do not have any more background pb.
Add Video Hustler, The Billiards, DigDug (2 sets), Hexa, Bank Panic.
Galaga (and clones) is playables.
Pinball Action is now playable.
The background pb in Phoenix (and clones) is fixed.
Also for 1942 background pb !
Add compressed ZIP support.
Add CRC checking to avoid compatibility problems.
Add Hish score management.
SELECT to add coins (A becomes the main shoot button).
No more "Player 2" mode.
No more clones (less games but only the originals ).
Mario becomes Masao to have the sound.
Ms Pacman becomes Ms Pacman (bootleg) and the zip file mspacmab.zip.
Piranha becomes Piranha (hack) and the zip file piranhah.zip.
Jr Pacman becomes playable.
Fire pb in Arkanoid fixed.
Using now EFSLIB, thanks Noda .
Change log (4.0e):
V4.0E : 30/07/2007 *BUG FIXED ???*
You must now put marcaDS.nds in the root directory of your flashcard
Recompile with last libnds