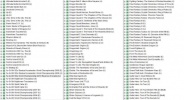 Final Fantasy and the Four Heroes of Light
All Spider Man
Pokemon Ranger Guardian Signs (U)
Professor Layton and the Unwound Future
Kingdom Hearts Re:Coded (J)
Fifa 2011 (E)
Pokemon Black and White (J)
Pokemon Black and White Patched (J)
Scooby Doo and The Spooky Swamp (E)
Harvest Moon Grand Bazaar
Dragon Quest IX: Sentinels of the Starry Skies
Pokemon Mystery Dungeon: Explorers of Sky
Pokemon Ranger: Hikari no Kiseki
Pokemon: Heart Gold
Pokemon: SoulSilver
Professor Layton and Pandora's Box
Mario Kart DS
All FIFA
Dragon Ball: Origins 2
Dragon Ball Z Attack of the Saiyans
Spectral Force Genesis
Ace Attorney Investigations: Miles Edgeworth
Assassins Creed II: Discovery
Grand Theft Auto: Chinatown Wars
Guitar Hero: On Tour Modern Hits
Lego Rock Band
Konami Classics Series: Arcade Hits
Wario Ware D.I.Y.
Trauma Center: Under The Knife 2
Legend of Zelda Spirit Tracks
Legend of Zelda Phantom Hourglass
All Need for Speed
All Call Of Duty
Sonic Chronicles: The Dark Brotherhood
Sonic Classic Collection
Sonic & SEGA All-Stars Racing
Super Mario 64 DS
Mario and Luigi: Bowsers Inside Story
MegaMan Star Force 3: Red Joker
Picross 3D
Kingdom Hearts 358/2 Days
Yu-Gi-Oh! 5Ds World Championship 2010 Reverse of Arcadia
Rune Factory
Rune Factory 2
and others...
If some game is missing just let me know!
Change log (1.2):
Professor Layton and the Unwound Future
Pokemon Ranger Guardian Signs (U)
Kingdom Hearts Re:Coded (J)
Fifa 2011 (E)
Pokemon Black and White (J)
Scooby Doo and The Spooky Swamp (E)
Harvest Moon Grand Bazaar
problem solved for Dragon Quest IX and more cheats added for this game.
more cheats for Wario D.I.Y.
more games added.
All Naruto.
All Pokemon.