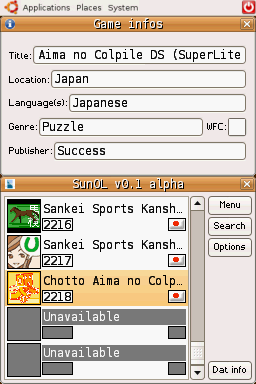 SunOL is an "Offline List" :
- With SunOL you can view all the NDS officials releases on NDS.
- For each game you can get diferents informations, view the LOGO(32*32), the BOXART and a SCREENSHOT.
- All these informations are stored on the memory card (Approximately 150MB for the full version and only 7MB for the last 100 games) and can be updated through wifi.
- SunOL is almost all skinnable (the official skin will be ubuntu).