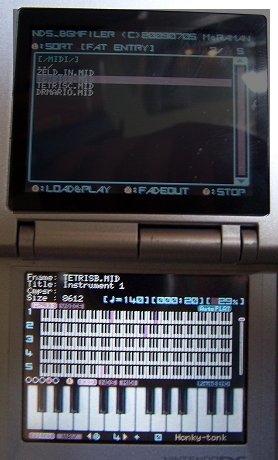 This is a music making application for the DS, it features midi playback (and for a handheld very good conversion), a keyboard able to use many instruments (inbuilt and external), channel selection along with many ways to vary how things are played back.
Change log (2010/11/15):
Many changes since the previous version hosted on filetrip
devkitPro 1.5.0 support (source available on homepage and on filetrip)
Keyboard now scrolls.
UI tweaks towards usability (volume control)
General bugfixes big and small.
Improved support for various common midi type operations (Vibrato rate among other things)
More instruments (jazz drums most notable) and waves for them and existing instruments.