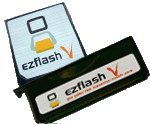 # The time stamp is now applied to save files.
# Fixed the bug where the screen border was messed up when launching a game NOR mode when not using a GBA frame.
# The problem which has the case where it cannot designate GBA starting as after and the like the resetting the NDS game, just was corrected. (I'm not sure what this one means)
# < START > now soft resets to the R4/M3 Simply/DSLink menu without loading a game into PSRAM.
# You now press < SELECT > to load a game into PSRAM and soft reset to the R4/M3 Simply/DSLink menu.