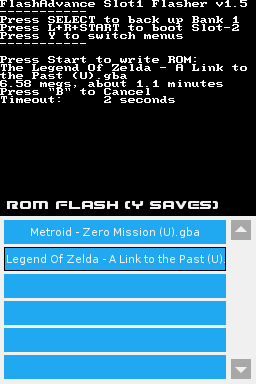 v1.5 - DABURU SUPIIDO!
+ Write rate cut to 9.5s/meg!!!
+ That's right... 2X SPEED!
+ Added GBA Frame support for L+R+START Booting
- Place 16bit BMP file named GBAFRAME.BMP in the /GBA folder
Old FlashAdvance cartridges for the Gameboy Advance used a Parallel Port device for flashing files to the cartridge from a PC. It's hard to find a newer PC (especially a laptop) with a Parallel Port. Based off of tftpds, FAS1 (FlashAdvance Slot-1) lets you place Gameboy Advance games in a folder "GBA" on a Slot-1 device (M3/R4/SuperCard/G6) and flash those files to a FlashAdvance 256 cartridge (only model tested) sitting in Slot-2 of your Nintendo DS.