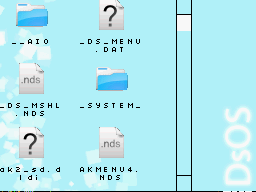 DsOS v0.6 neocompo edition
DsOS is a multifunction application for your DS, it allows you to browse the files of your card, view JPEG, PNG, BMP(24bit only for now) and TXT files.
I'm also developing new features like mp3 player, 8bit and 16bit BMP viewer and a little coding language
.
How to use:
1) Copy DsOS folder and DsOS.nds in the root of your memory card.
2) Run DsOS.nds
The File Browser will be opened. You can open other apps(only Image and Text viewer, for now) by pressing Start.
TODO:
Add mp3 support
Add 8bit and 16bit BMP viewer
Add email client
Some other things :p