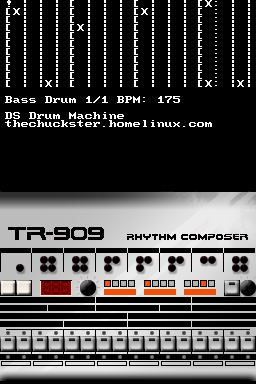 By TheChuckster.
The Roland TR-909 drum machine is the beat box that launched the electronic dance music revolution. As Ishkur says in his EDM Guide, "The 909 doesn't have a bass drum -- that's just a weird thud emanating from the box that has launched a million dance records." The familiar oonst oonst oonst rhythm and the signature hand clapping has filled dance floors since 1980.
I wrote DS Drum Machine to pay homage to this classic drum machine that is ubiquitous throughout trance music. I love the sound of it. Want to rap, dance, or practice beat boxing? Better do it in style by whipping out your Nintendo DS with DS Drum Machine on it.
Enjoy. Hope you can make some tight beats with this. Pump up the jam!
Features
909 and 808 sample sets included, 16th note resolution, variable drum volume, adjustable BPM, FL Studio-like loop editor, basic pattern support, interactive TR-909 graphical user interface designed by headspin, touch screen support.
Future Plans
Saving, More 909 and 808 features (tune, attack, decay), 303ish software synth (I'm already perfecting a PC prototype), a sequencer, a mixer, arbitrary sample sets, special effects (delay, chorus, low-pass).