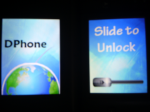 iPhone clone for the DS
Original Post @ PALib Forums
Hello Community!
Here is where I will post all my info on my project DPhone (
http://www.hillbilly-palib.blogspot.com
)
Features to be implemented :
-Phone (Author of SvSIP contaced me...)
-Music Player
-Text Editor (Finish it)
-Settings (right hand - left hand setting)
Done Features :
-Customizable icons (Loading GIF's)
-Maps
-File browser
-Calendar
-booting functionality
-Customizable main-screen BG
-Plays *.RAW files from the file browser.
-Plays *.SMF files (Spinal's Movie format) from the file browser.
-GUI Clock courtesy of bug-fix by ThemePark.
-Multi-Touch support (MLlib) used in picture viewer.
Video #1 (File-broswer & movie playback) :
http://www.youtube.com/watch?v=6EzWDRMBkLo
Removed because the video was out-of-date
Special Thanks - Themepark (some coding and other various help), Spannernick (For the idea), and finally the community and the developers of PAlib! PAlib RULES!!
**Visit my website for more details**
EDIT : I forgot to mention this but I may release a version of this for the NEO flash compo.. It all depends on what all I get done by then.